As the association with Marvel and Sony Pictures continues in the specter of more feature films being rumored, so as our retrospective on this Universe. Today we are going to revisit a few aspects of Venom!
Helmed by Ruben Fleischer and released in 2018 the flick brought us a villain embodied as a lamb fully on the person of Eddie Brock (played by Tom Hardy) hosting the symbiont Venom.
The character pulled out from Marvel Comics of Spider-Man gained life in a long feature film without his counterpart, his archenemy – the web-slinger hero! Back in 2018, it could be some kind of strange to see the villain without the hero portrayed in a full-length movie, since they exist depending on each other and the critics then pointed it out in this first Venom flick.
But now, and after we witnessed Joachim Phoenix's JOKER (2019) – intended capitalized -, the idea does not seem so surprising, even with a little (and unnecessary, may I add) cameo of a young Bruce. But enough of DC already!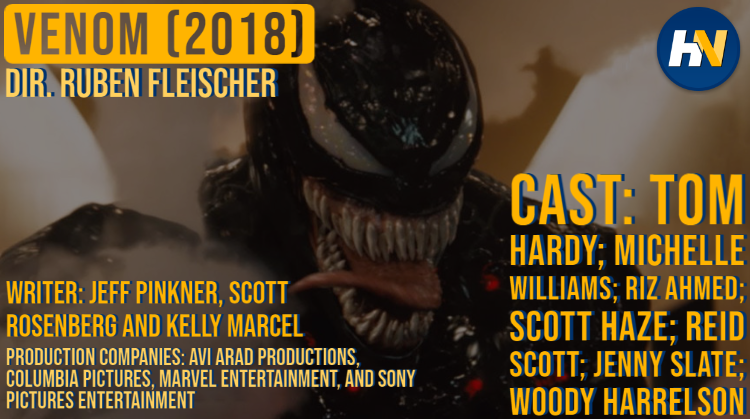 The parasite protagonist was the "first movie" to introduce the Sony Picture's Universe of Marvel Characters (SUMC) that now we are getting to know… with future Morbius coming up (March 2021) and future Madam Web and/or Spider-Woman, Kraven, the Hunter, and Silk, and Black Cat… and so on… the Spider-verse is enormous!
Anyways, in the comics, the symbiote was first introduced in 1984 (The Amazing Spider-Man #258) inhabiting the body of one Peter Parker and then only on May 1988 (The Amazing Spider-Man #300) Venom would show up embodying Eddie Brock seeking vengeance against Parker and becoming a villain – embracing its full nefarious nature. In the movie version, we could not see that, just because there is no Peter Parker and no Spider-Man… bummer!
The movie's promo had a few posters pointing towards an antihero film – where the main character with its tongue and tentacles eats the heads of people! Because the 2018's world "had enough superheroes" – remember?
Right after, the "shape-shift monster" thriller got a PG-13 rating. What? Yes… And the movie did not follow that tag line after all. What happened was that it ended showing us a "superhero" of a kind, since Venom – the alien parasite, not Eddie (the human one) – changed his mind on the last minute, and did not wish to collaborate in bringing the rest of his species down to earth and end with it. Venom sacrifices himself in an attempt to save Brock's life – or did he? They became "attached", it reminded me a lot the take that Parasyte has – the anime one (2014). Have any of you watched/read? It is cool… Keep it in the loop!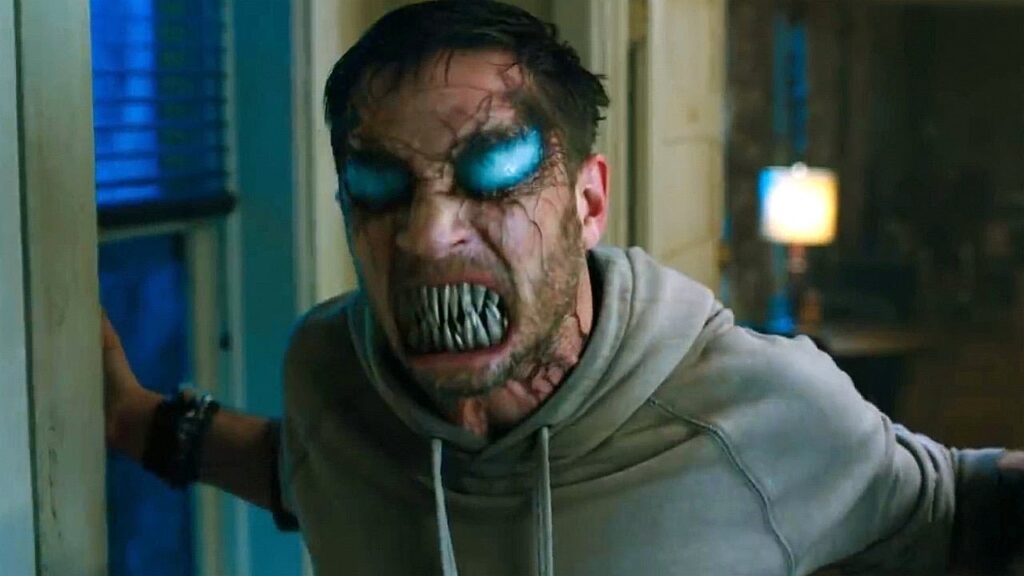 Resembling Jekyll and Hyde – the relationship between the doctor and the monster living inside the same body – sharing the space for two different minds just like Bruce Banner and The Hulk. Arguing and talking about things throughout the story as they continue to disagree with each other until they can find a common ground.
The conversations between Venom and Eddie are the most enjoyable thing in the film. It does make you laugh. We could say the same about the final battle – between Eddie Brock + Venom and the psychopathic scientist (played by Riz Ahmed) Carlton Drake + Riot. It is fun to watch them blending and fusion together as they battle to launch/stop the rocket. Although the camera work does not enhance our experience in this battle, it still is a good one.
The official synopsis reads: Eddie Brock (Tom Hardy) is a broken man after he loses everything including his job and fiancée (Michelle Williams). Just when his life is at its lowest, he becomes host to an alien symbiote which results in extraordinary superpowers – transforming him into Venom. Will these powers be enough for this new lethal protector to defeat great evil forces, especially against the far stronger and more weaponized symbiote rival, Riot?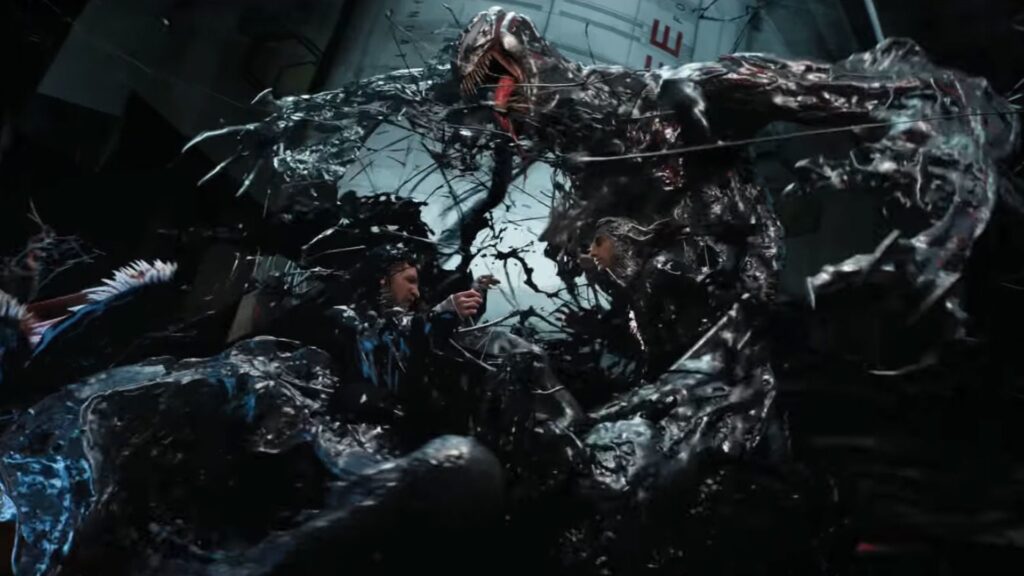 Despite the bad critics – it was classified as one of the ten worst movies released in 2018 by critics at the Hollywood Reporter – it was a hit in box-office all over the world, profiting $856,1 million and, also with the audience in general. Therefore, Sony decided to invest in yet another movie. The sequel was picked right after – in January 2019.
Tom Hardy has signed a contract for three films portraying Eddie Brock – the self-centered journalist that symbiosis with an alien in a fluid form to share his body with. We already know the next one will be Venom: Let there be Carnage – to be released on June 25, 2021. Remember the mid-credits scene where Eddie went into San Quentin's prison to interview Cletus Kasady – a famous serial killer, played by Woody Harrelson that gives the most obvious indication: "There will be Carnage", thus the title of the sequel – let there be!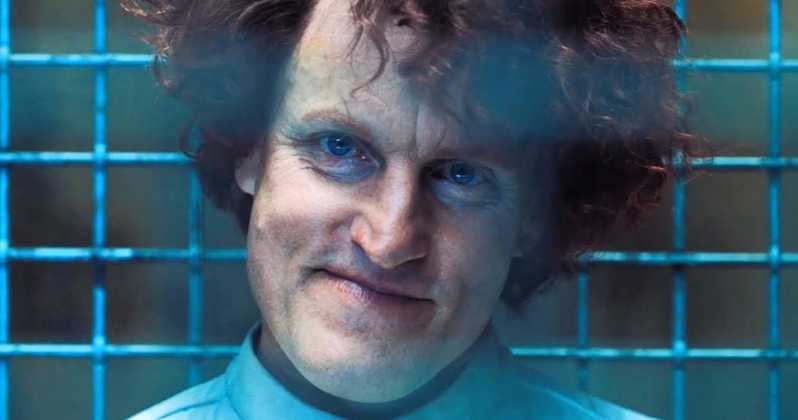 With this next movie already finished, Tom Hardy completes two in Venom's role, leaving us with one more flick to speculate. What do you think? We'll get more information when Morbius gets out? Or we're going to have to wait until Venom 2 arrives?
And let us know in the comments below your thoughts on Venom from 2018 either!